The Meritage Resort and Spa
THE BUZZ IS ALL ABOUT THE CREAMER
Coffee has been a staple in international culture since the 15th century. This highly addictive caffeinated beverage is to blame for the early risers and over achievers. It's what is in your morning cup that matters.
Many Americans dowse their perfectly brewed coffee with acidic creamers, artificial sugars, artificial flavors galore.
What does your morning cup of joe look like? Black, cream, sugar?
It may seem like a simple morning beverage, but the truth is there are thousands of ways to dress up your traditional cup of joe. Today alternative creamers are all the rage. From almond to coconut and soy to oat milk. Milk companies and alternative options even have their own category of barista blends in major supermarkets. Many of these options are delicious but are also a healthier choice to a traditional powdered creamer and Splenda. The MC collection offers healthier options for your cup of joe. We've brought on dairy free, plant-based creamers from Laird Superfoods. Carefully crafting the healthiest most delicious latte for our guests.
Since we are big fans of Laird Superfood products, we introduced our Laird Turmeric Latte at Blend Café, our coffee shops located at The Meritage Resort and Spa, Estancia La Jolla Hotel & Spa and Paséa Hotel & Spa.
There is so much you can do with coffee besides just starting your day with a sip of this magical beverage from a cup. Here are our top two recipes to say goodbye to Summer and hello to Fall:
COCONUT COFFEE ICE CREAM RECIPE (with Functional Mushrooms!)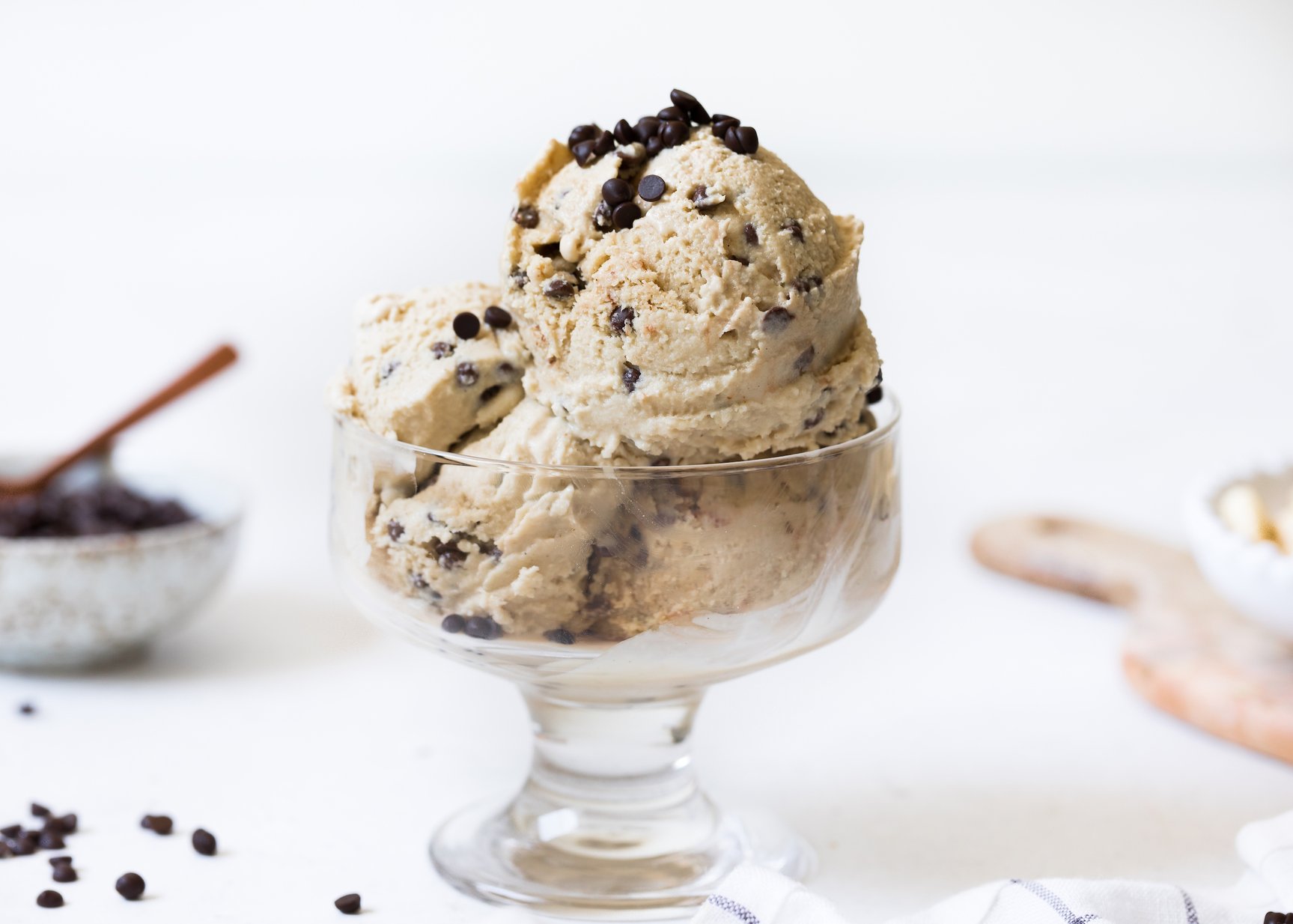 Coconut Coffee Ice Cream

Serves 6-8
Ingredients:
1 cup raw cashews
1 13.5-ounce can of full-fat coconut milk
1/2 cup pure maple syrup
1 cup brewed Laird Superfood Mushroom Coffee
2 tsp vanilla paste or pure vanilla extract
1/4 tsp fine-grain sea salt
1/2 cup vegan mini dark chocolate chips, plus more to sprinkle on top(optional)
Directions:
Put all ingredients except for the chocolate chips in a high-speed blender and blend until completely smooth, about 1-2 minutes on high speed.
Pour mixture into your ice cream maker and churn until you get a soft-serve consistency, about 20-40 minutes depending on the machine. Add the chocolate chips and churn for a further 2-3 minutes.
Transfer the mixture to a loaf tin and cover with parchment paper or plastic wrap. Freeze for 2 or more hours, until the desired consistency is reached. Once completely frozen, you will need to remove the ice cream from the freezer about 15 minutes before serving to soften it up.
---
PUMPKIN SPICE COLD BREE RECIPE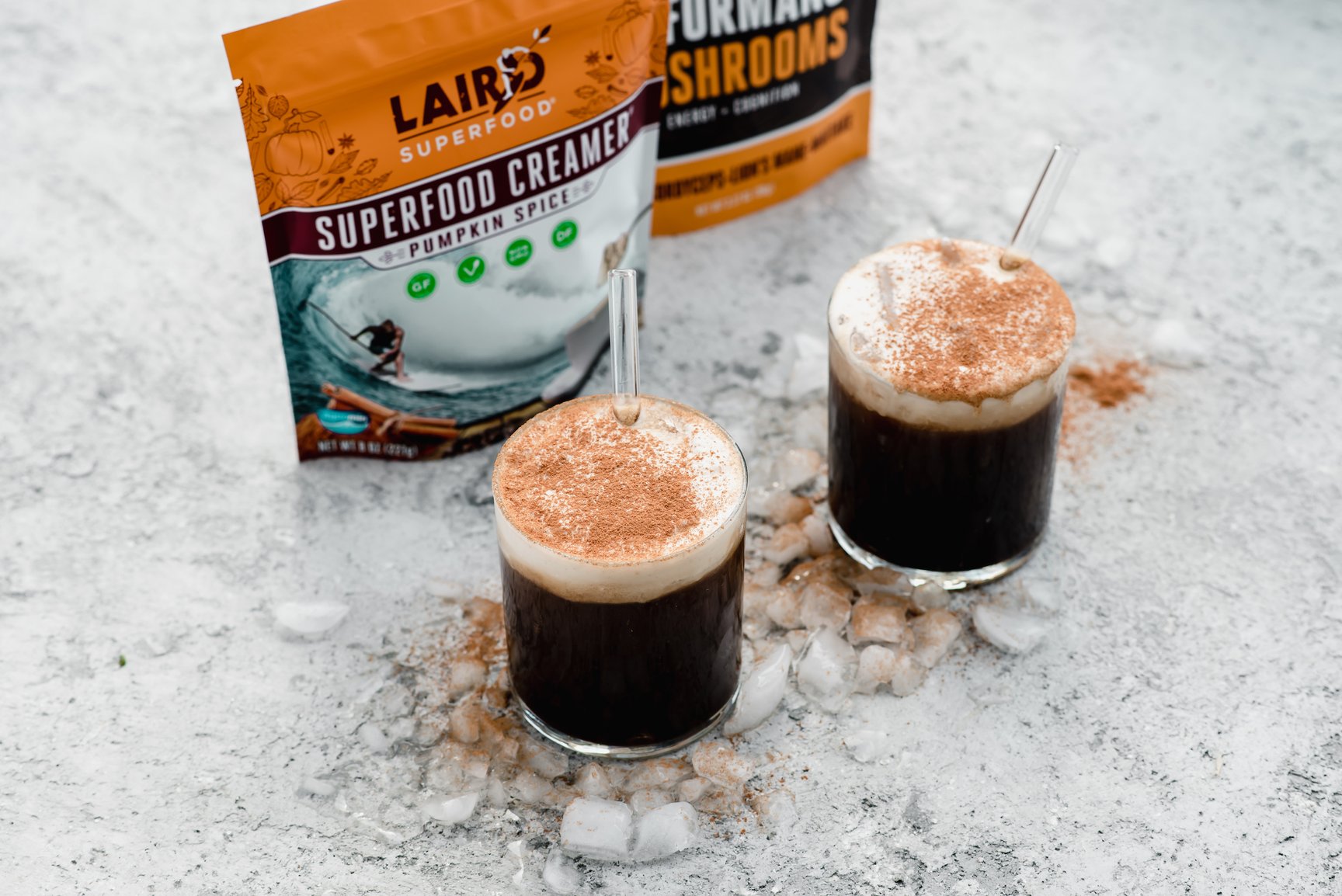 Enjoy Pumpkin Spice hot or cold this season! This cold brew pumpkin spice coffee is the perfect beverage for those end of summer and early fall warmer days!
It's made with real ingredients and sweetened with Organic Coconut Sugar, so you can feel good about enjoying it again and again! We've added a boost of Performance Mushrooms to ours (feel free to omit)!
Pumplin Spice Cold Brew
Time to Make: 5 Minutes (after preparing Cold Brew overnight)
Serves 2
Ingredients
3 cups filtered water
1 tsp Performance Mushrooms (optional)
1 1/5 cups oat milk or preferred plant milk of choice
Directions
In a French press, add the ground coffee and water to steep overnight or at least 12-24 hours in the fridge.
When ready, strain and prepare cups with ice.
Froth together the pumpkin creamer and performance mushrooms with the plant milk.
Pour the cold brew over the ice and layer the pumpkin creamer mixture on top and enjoy
Click here for more Laird Superfood recipes